How do I activate the Health Data Sync?
After installing the v1,8,0 or later of the iOS or Android app, you will be asked whether you want to "Link your devices" during the app opening screens. Select "Setup now" to continue. Alternatively, go to Settings > Features Settings > Integrations.
Within the integrations settings menu you can enable Apple Health, Google Fit and Fitbit integrations. Apple Health will be greyed out on Android devices and Google Fit will be greyed out on Apple devices. However it is possible to have both integrations active if you use My PT Hub with both devices.
Selecting the integration of your choice will open the device permission gathering screens. Once you have provided the relevant permissions you will be returned to the page. You can now select the Hub from the menu to do your first sync and view synchronised data for the first time.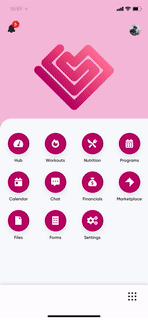 What activity data does the integration sync to My PT Hub?
When enabled, My PT Hub syncs any available activity data of the below 18 activity metrics from Apple Health (Apple devices only), 4 metrics from Google Fit (Android devices only) and 4 metrics from Fitbit (via all devices).
Synchronisation occurs when:
The App is opened for the first time, or restarted (when it is brought to the foreground from running in the background).
The User "pulls down to refresh" on the Hub or within the Integrations "View All" area.
When available, the Hub displays the 4 most popular metrics across multiple enabled devices:
Steps
Floors Climbed
Distance
Active Energy Burned
Apple Health
Data stored in Apple Health is synchronised on a regular basis from thousands of Devices and App sources. This makes it possible for My PT Hub to gather data from thousands of originating sources, when granted with sharing permissions by the device user to the Health data store.
Data fetched from Apple Health by My PT Hub can be categorised in 3 different ways. These have been set dependant upon the most likely usage, and of that data by the Trainer and Client:
Category 1: "Only Apple originating data is sync'd"
Active Energy Burned
Resting Energy Burned
Blood Glucose
Blood Pressure
Body Temperature

Heart Rate

Respiratory Rate

Mindful Minutes

Sleep
Category 2: "All third-party originating source data is synchronised"
Steps
Distance Cycling
Distance Walking + Running
Flights Climbed
Latest Height
Latest Weight
Latest BMI
Latest Body Fat %
Latest Lean Body Mass
Category 3: "Specific Workout Activity data - all third-party originating source data is synchronised"
Workout Activity data is for a variety of Workout Types is synchronised to My PT Hub, including Walking, Running, Swimming, Cycling, Strength Training, Sailing, Windsurfing + many more. The activity data is sourced from either the Apple Watch native "Workout" app, or third-party apps such as Cycling from Strava, Running from Nike+ Running & Adidas Running, Garmin Connect - or even Walking Distance from Pokemon Go.
Every Workout Activity sync come with active metrics tracked during the activity:
Duration of Activity
Distance Covered (if applicable to activity)
Heart Rate
Calories Burned
Google Fit
Steps
Flights Climbed
Distance
Weight
Active Energy Burned
Fitbit
Steps
Flights Climbed
Distance
Active Energy Burned
As a Trainer, how do I see my clients' tracked data?
All tracked client data is available in the My PT Hub App and Web platform, via the Contact's profile. Go to Contacts > [A specific contact] > Integration Activity to view.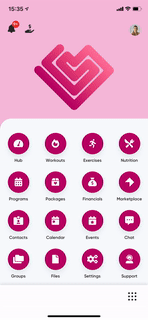 Why are some of the results different to what is shown on my client's device inside the Apple Health app?
For "Category 1" daily metrics imported from Apple Health, only samples created by Apple Watch and Apple Health are included in the daily calculations. Manually entered activity is also excluded. This has been filtered to avoid duplication of data from multiple devices and services. However, imported individual Workout Activity data is shown from many third-party sources, including Garmin Connect, Strava, Nike Training Club to name just a few.
Does My PT Hub collect my client's Health data without me opening the app?
For clients that have enabled the Health integration, push notifications are sent to your clients once every 48 hours to remind them to open the app. Opening the app ensures that health data is synchronised continuously. For any historic days that are missed, it is also possible to re-sync a specific day by asking your client to navigate to the day within the integrations view and "pulling down to refresh".
How much historic data does My PT Hub import?
When you first open the app and connect your device, the app will request the past 2 days data from Apple Health to update your dashboard + the previous day.
When I go back a few months and request Health Data into My PT Hub, it does not find records shown in Apple Health, why am I missing data?
My PT Hub can only request data that is stored on your device. Some data is offloaded from your device to iCloud, when you device memory is low. My PT Hub cannot retrieve this information.
Is the Google Fit integration available on Custom Branded Apps?
At this moment in time, it is not possible to enable the Google Fit data synchronisation from an Android device, if the client is using a Custom Brand app version of My PT Hub from the Play store. We will continue to monitor this and advise if this becomes possible. We recommend that your client's use the My PT Hub app from the Play Store to track data via the Google Fit integration.